Introduction
Electric vehicles are essential in decarbonizing our world. Transportation currently accounts for 29% of greenhouse gases emitted from the United States. Additionally, ICE (internal combustion engine) vehicles emit pollutants such as carbon monoxide, sulfur, and nitrous oxide. These pollutants are toxic and contribute to smog. Luckily, many car manufacturers have discovered that electric vehicles are a legitimate industry, with millions or billions of dollars in profit still waiting to be tapped. Additionally, Tesla has done a great example of showing that the market for electric vehicles will continue growing. So with that, let's see the new electric cars coming in 2021!
Lucid Air
Like Tesla, Lucid is leading their product line with their most expensive model. The top-edition Air from Lucid has an estimated range of 517 miles, which blows away the competition. Much of this improvement comes from aerodynamic improvements. According to Lucid's CEO, the Air is more aerodynamic than a Bugatti Chiron. Lucid's first vehicles will be aimed towards a relatively small market of people who are willing to pay a high price for the best vehicle. And this price is not small, at $169,000!
Mustang Mach-E
Ford has taken a bit of a gamble in turning their flagship vehicle electric. This crossover SUV has four doors, along with plenty of functional room. That's not to say the latest Mustang is slow; the Performance Edition can hit 60 mph faster than a Porsche GTS. It's also has good range. The extended-range battery and rear-wheel-drive model can travel at least 300 miles on a single charge. The Mach-E has the raised profile of an SUV, but has some signature Mustang designs. The base model comes in at $43,895 before incentives. In my opinion, this is an excellent price for such a high-performance vehicle.
Tesla Cybertruck
Covered in dent-proof stainless steel, the Cybertruck will likely be one of the most controversial vehicles of all time. Featuring supercar acceleration and pickup truck functionality, it certainly seems like an attractive buy. Because of the special steel which is harder to process, the Cybertruck features a "box" design. This polarizing design draws diverse opinions, but is undoubtedly the first in a long line of futuristic cars. This vehicle's base model comes in at $39,900 before incentives.
Rivian R1T
Blending functionality and luxury, American upstart Rivian is fighting to establish itself as a competitor in the electric utility vehicle market. Although there are not many electric utility vehicles yet, the industry will undoubtedly become fairly crowded in the future. Rivian's R1T costs $67,500 before incentives, and is designed to take any conditions the world throws at it. According to Rivian, the truck can handle temperature ranges from -25F (-32C) to 130F (54C).
Chevrolet Bolt EUV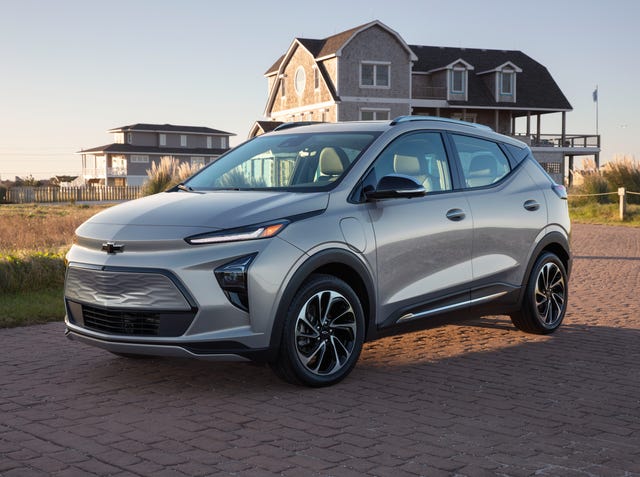 One of the few legacy automakers betting on electric vehicles, Chevrolet is coming out with the 2022 Bolt EUV (electric utility vehicle). This car is based off of the original Bolt. However, it has much more room for a family, as well as a Super Cruise feature. The Super Cruise is a driver assistance feature which allows the driver to take their hands off the steering wheel. Unfortunately, it is only available on certain highways which have been previously laser scanned. The Bolt EUV is expected to come in summer 2021, with a base model price of $33,995 before incentives.
Thank you for reading my article! I will try to post every three days.